Hillco Air Flow Systems for Case IH combines and Case IH and New Holland tractors are performing exceedingly well in the field. In the past few years, Hillco has released a variety of models of air flow kits that help farmers to extend the life of their tractor or combine's air filter. The simple design works by centrifugal force, pushing dust and debris out of the air prior to the air entering the filter.

Hillco Air Flow Systems for Case IH and New Holland Tractors have received awesome feedback helping farmers to improve their daily duties. Some feedback we've received for the tractor AFS recently:

"We put one on our 620 quad trac and it made a huge difference. I don't have to tap the filters out every day. It's an amazing system!"

"Bought one for my 580 quad. Works excellent."

"Put one on a NH T8.380, made a world of difference keeping air filters clean."

We offer multiple kits to fit many different models of tractors, check out the chart below to see which model will work for your tractor.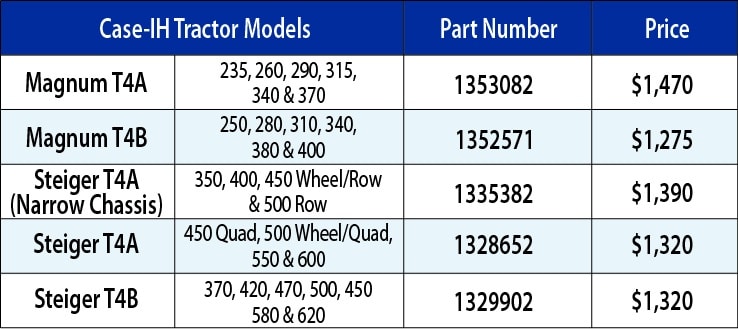 Hillco's Combine Air Flow Systems have received similar accreditation, offering less down time during the busy harvest season.

"Bought one for our Case IH 8010 combine last year, made a night to day difference in keeping the air filter clean."

"Bought one for our 8120 this year and works great. Before I was lucky to make it through the day in beans but now I have no problem going 3 days easily."

"Installed one on our 7010 last year. Worked great!"

Our Combine Air Flow Systems fit all Case IH Flagship 10, 20, and 30 series combines and most 40 & 50 series as well. Pricing and model breakdowns are available below.